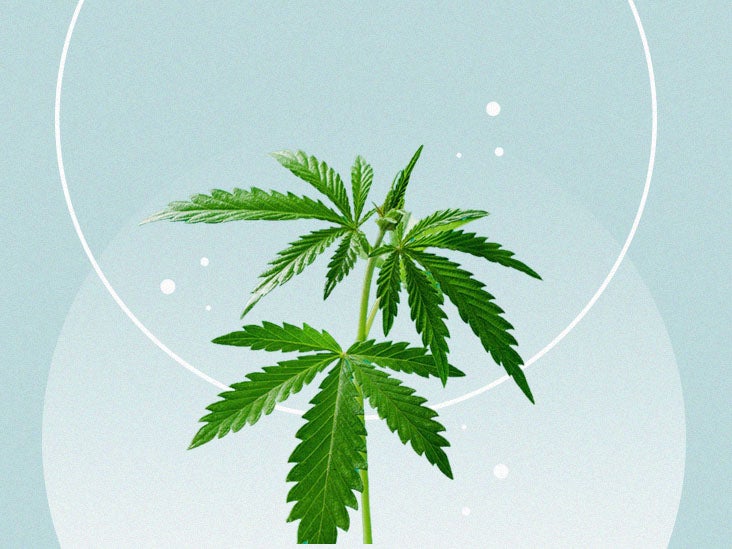 Cannabidiol (CBD) oil is derived from the cannabis plant. It has many therapeutic benefits and may help ease the symptoms of conditions such as anxiety, epilepsy, and cancer.
Many CBD products only contain trace amounts of tetrahydrocannabinol (THC), so they won't make you feel high. THC is the main psychoactive cannabinoid in cannabis.
While there are plenty of CBD oils and tinctures on the market today, it's important to know that not all of them are created equal. There are currently no over-the-counter (OTC) CBD products approved by the Food and Drug Administration (FDA), and some products may not be as effective or reliable as others.
Keep in mind that everyone responds to CBD differently. So, as you try out products, it's important to note any positive or negative reactions.
Read on to help narrow your search, and learn about 10 CBD oils and tinctures and their uses. All of the products listed here are:
full-spectrum, containing less than 0.3 percent THC
made from U.S.-grown hemp
third-party tested
meant to be taken orally
Where available, we've included special discount codes for our readers.
CBD oils vs. tinctures
CBD oil: made by infusing cannabis in a carrier oil
CBD tincture: made by soaking cannabis in alcohol and water
CBD oil brands selected:
Charlotte's Web
Zatural
CBDistillery
Holmes Organics
Ojai Energetics
Lazarus Naturals
Veritas Farms
4 Corners
NuLeaf Naturals
Absolute Nature
Charlotte's Web CBD Oil
This full-spectrum (less than 0.3 percent THC) CBD oil comes from a well-known brand offering relatively inexpensive oils for the potency. The company uses U.S.-grown hemp from Colorado.
It typically uses hemp extract, coconut oil, and flavorings in its large variety of products. It also offers its batch-specific COAs online.
Shop NowUse code "HEALTH15" for 15% off.
Zatural Cannabis Full-Spectrum CBD (300 mg)
Zatural sources its organic cannabis from U.S. farms. It's THC-free and hemp oil-based, and comes in a wide variety of strengths, sizes, and flavors.
Zatural oils are also some of the most affordable available.
Note that while the company labels this oil as "full-spectrum," it only contains CBD with no other cannabinoids, which we label as an "isolate."
CBDistillery™ Full Spectrum CBD Oil
This full-spectrum 1,000 mg tincture gives you 33 mg of CBD and other cannabinoids per serving.
CBDistillery's products are made using U.S. Hemp Authority-certified non-GMO hemp grown in the United States.
Holmes Organics CBD Oil Tincture
This broad-spectrum CBD tincture goes through a rigorous extraction process for a high-quality end product. All of Holmes Organics' products are lab-tested, U.S.-sourced, and THC-free.
In addition to tinctures, it offers softgels, salves, creams, and other products.
Ojai Energetics Full-Spectrum Hemp Elixir
Ojai Energetics' full-spectrum oil is water-soluble and made without any synthetically modified compounds to aid in bioavailability (meaning less can be used for the same potency).
The company produces its oils with plant ingredients like moringa and acerola cherry, which provide micronutrients like vitamin C.
Lazarus Naturals High Potency CBD Tincture
CBD oil from Lazarus Naturals is made from hemp grown in Oregon. The company has a high level of transparency regarding the sourcing, manufacturing, and third-party testing of its products.
In addition to oils, it offers tinctures, capsules, topicals, and other products.
Veritas Farms Full-Spectrum CBD Tincture
This non-GMO CBD tincture is made from hemp grown in Colorado, using sustainable farming methods to reduce the impact on the land.
COAs are available on the site for every batch of all Veritas Farms products.
Shop NowUse code "HEALTHLINE" for 15% off.
4 Corners Cannabis Oral Tincture
4 Corners uses certified organic sugar cane ethanol to extract CBD oil from its hemp plants, resulting in an oil that contains more than 60 percent CBD.
This full-spectrum tincture can be mixed into your favorite drink or taken on its own.
Shop NowUse code "SAVE25" for 25% off.
NuLeaf Naturals Full-Spectrum Hemp CBD Oil
NuLeaf Naturals offers this organic, full-spectrum oil with highly concentrated CBD. Its potency ranges from 300 to 6,000 mg to match intake preferences.
NuLeaf Naturals' hemp plants are grown in Colorado, and it controls the farming and production process in the United States.
Absolute Nature CBD Full-Spectrum 1,000 mg CBD Oil Drops/Tincture
Absolute Nature's CBD Tinctures are made with non-GMO hemp, grown in Colorado.
The company extracts its CBD along with other naturally occurring compounds to enhance absorption. Gummies, softgels, and other products are also available.
We chose these products based on criteria we think are good indicators of safety, quality, and transparency. Each product in this article:
is made by a company that provides proof of third-party testing by an ISO 17025-compliant lab
is made with U.S.-grown hemp
contains no more than 0.3 percent THC, according to the certificate of analysis (COA)
passes tests for pesticides, heavy metals, and molds, according to the COA
As a part of our selection process, we also considered:
the company's certifications and manufacturing processes
product potency
overall ingredients
indicators of user trust and brand reputation, such as:

customer reviews
whether the company has been subject to an FDA warning letter
whether the company makes any unsupported health claims
Where available, we've included special discount codes for our readers.
Pricing
Most of the products available from this list are under $50.
Our price point guide is based on the value of CBD per container, in dollars per milligram (mg).
$ = under $0.10 per mg of CBD
$$ = $0.10–$0.20 per mg
$$$ = over $0.20 per mg
To get a full picture of the price of a product, it's important to read labels for serving sizes, amounts, strengths, and other ingredients.
When choosing a CBD product, here are some key questions to ask. Be sure to educate yourself on how to read a product label before you make a purchase.
What type of CBD is in it?
You'll find three main types of CBD on the market:
Isolate contains only CBD, with no other cannabinoids.
Full-spectrum contains all cannabinoids naturally found in the cannabis plant, including THC.
Broad-spectrum contains multiple cannabinoids naturally found in the cannabis plant, but doesn't contain THC.
Some research has found that CBD and THC used together produce what's known as the entourage effect. This means that when used together, they may be more effective than either cannabinoid used alone.
Types of CBD
Isolate: contains only CBD with no other cannabinoids
Full-spectrum: contains all cannabinoids naturally found in the cannabis plant, including THC
Broad-spectrum: contains multiple cannabinoids naturally found in the cannabis plant, but doesn't contain THC
Full-spectrum CBD may also include these compounds:
proteins
fatty acids
chlorophyll
fiber
flavonoids
terpenes
Has it been third-party tested?
Currently, the FDA doesn't guarantee the safety, effectiveness, or quality of OTC CBD products.
However, in order to protect public health, they can take action against CBD companies that make unfounded health claims.
Since the FDA doesn't regulate CBD products in the same way they regulate drugs or dietary supplements, companies sometimes mislabel or misrepresent their products.
That means it's especially important to do your own research and find a quality product. The product's COA should confirm that it's free of contaminants and that the product contains the amount of CBD and THC it claims.
Beware of any company that promises extreme results, and remember that results may differ. A product that works well for a friend or family member may not have the same effects for you.
If a product doesn't work for you, you may consider trying another with different ingredients or a different amount of CBD.
What, if any, other ingredients are in it?
Usually, you'll find hemp, hemp extract, or hemp oil listed as the main ingredients on a bottle of CBD oil or tincture. These ingredients contain CBD.
Sometimes, other ingredients are added for taste, consistency, and other health benefits. If you're looking for a product that has a particular flavor, you might want to look for one with added essential oils or flavorings.
If you're looking for possible extra health benefits, you might want to look for one with added vitamins.
Where's the cannabis grown, and is it organic?
Look for products made from organic, U.S.-grown cannabis. Cannabis grown in the United States is subject to agricultural regulations.
Organic ingredients mean you're less likely to consume pesticides or other chemicals.
Takeaway
Look for CBD products that are third-party tested and made from organic, U.S.-grown cannabis.
Depending on your needs, you may want to look for full- or broad-spectrum products.
Always check the ingredients to see that they suit your needs.
CBD oil isn't the same as hempseed oil, which is sometimes labeled as hemp oil.
CBD oil is made from the flower, bud, stems, and leaves of the cannabis plant. Hempseed oil is made from the hemp seeds and doesn't contain any CBD.
Hempseed oil can be used topically for skin health, and it can be taken orally as a supplement or food additive.
CBD oil may be taken orally, or it can be added to balms and moisturizers and applied topically.
Shake the bottle before use to ensure the ideal consistency. Use a dropper — many products will come with one — to place the oil under your tongue.
For maximum absorption, hold it under your tongue for 30 seconds to a few minutes before swallowing.
To determine how many drops to take, follow the recommended dose provided by the manufacturer or your doctor.
Start with a small dose. Over time, you can increase the dose and frequency until you achieve your desired results.
Appropriate serving sizes for CBD vary greatly depending on individual factors, such as:
intended use
body weight
metabolism
body chemistry
Doses should be taken at least 4 to 6 hours apart. You can take CBD at any time of day. If you're using it to improve sleep, take it before bed.
The immediate effects of CBD usually take effect within 30 to 90 minutes, but long-term results may take several weeks to achieve.
You can also mix CBD oil into drinks and food, but this may affect absorption.
Store CBD oils and tinctures in a dry, cool place away from direct heat and sunlight. Make sure the cap is closed tightly after each use. It isn't necessary to refrigerate the product, but it may help to prolong shelf life.
Avoid touching your mouth with the dropper to prevent bacterial contamination and preserve the quality of the oil.
CBD is also available in capsules or gummies, or infused into skin care products, such as lotions and salves. CBD skin care products can be absorbed into the skin and don't need to be washed off.
CBD is generally well tolerated and safe to use, though negative reactions, such as fatigue and digestive issues, are possible.
Talk to your doctor before taking CBD if you're pregnant or breastfeeding, have any medical conditions, or take any OTC or prescription medications or supplements.
CBD has the potential to interact with medications, including those that also interact with grapefruit.
Some research also suggests that consuming CBD with high fat meals could increase your risk for side effects. This is because high fat meals can increase CBD blood concentrations, which can increase the risk of side effects.
Carefully read the ingredient list if you're allergic to coconut oil or have any other possible allergies.
CBD is legal in many parts of the United States, but most manufacturers require you to be at least 18 years old to purchase their product. It may not be legal in all countries.
Check your local laws before buying CBD. When buying online, confirm with the manufacturer that they'll ship to your area but also check local laws.
Since CBD products can contain trace amounts of THC, it's still possible for it to show up on a drug test. Avoid taking CBD products if this is a concern.
Researchers don't yet know all of the benefits or risks of CBD use. Results may be slow and subtle, and they may vary among people. You may wish to track your results using a journal so you can see the effects over time.
Want to learn more about CBD? Click here for more product reviews, recipes, and research-based articles about CBD from Healthline.
Is CBD Legal? Hemp-derived CBD products (with less than 0.3 percent THC) are legal on the federal level, but are still illegal under some state laws. Marijuana-derived CBD products are illegal on the federal level, but are legal under some state laws. Check your state's laws and those of anywhere you travel. Keep in mind that nonprescription CBD products are not FDA-approved, and may be inaccurately labeled.