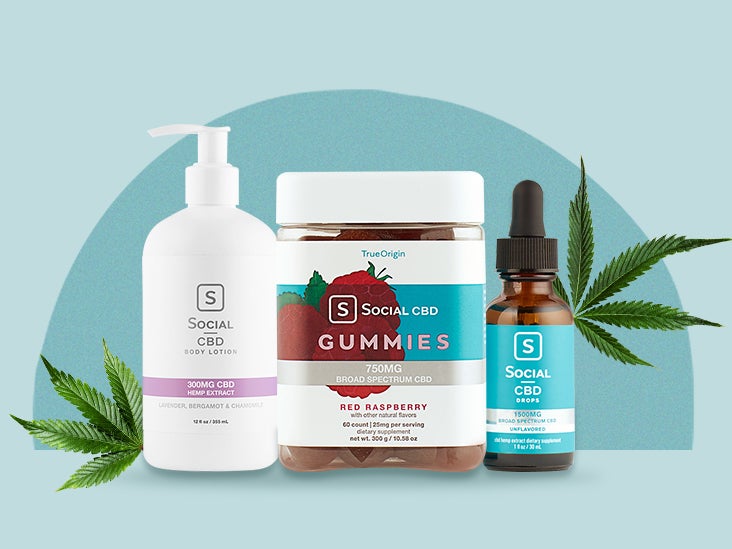 Cannabidiol, known as CBD, is one of the many cannabinoids found in cannabis plants.
Many people use CBD in their daily routines because it might offer a range of health benefits. As with all health items, it's important to choose high-quality CBD products.
Previously known as Select CBD, Social CBD is a well-known CBD brand that has a reputation for producing quality CBD products. This article will go over their reputation and quality, as well as look at some of their top products.
Though the Food and Drug Administration (FDA) doesn't guarantee the safety and quality of any over-the-counter (OTC) CBD products, it can take action against companies that break the rules or make unsubstantiated health claims. It does this by sending the company a warning letter.
While many brands have received these letters, Social CBD isn't one of them. This suggests that the company is playing by the rules and is reputable.
Similarly, some brands are subject to pending lawsuits related to their safety and quality. Social CBD doesn't seem to have been subject to any lawsuits.
They also have an overall good reputation on independent forums and websites that review CBD products.
Hemp source
Social CBD is open with customers about where they grow their hemp, stating on their site that all of their hemp comes from Oregon. Though they aren't certified organic, they say that their farms use natural growing practices.
Manufacturing processes
Social CBD uses ethanol extraction to extract the CBD used to make their isolate products. Their broad-spectrum products are made with a distillation extraction method.
While all manufacturers are required to be compliant with the FDA's current good manufacturing practices (CGMPs), some brands go above and beyond to get CGMP certified. Social CBD doesn't currently seem to have any CGMP certification.
Lab testing
It's important for CBD products to be third-party tested by an independent lab to verify their contents. CBD brands often share their lab reports, or certificates of analysis (COAs), online.
While Social CBD's products are tested by an ISO 17025-compliant lab, their COAs can only be accessed if you have a batch or lot number.
The benefit of this is that you can find lab test results that are specific to your product — not just a general lab report that covers all CBD products on their site. However, the drawback is that you need to have the product in hand before you can look up its COA.
That being said, the company does email COAs by request if you want to see them before making a purchase.
Social CBD has quite a broad range of CBD products, including:
CBD tincture
gummies
vape pens
gel capsules
pet products
topicals
In each product category, they have a range of different items, differing by flavor, fragrance, and potency. They offer both broad-spectrum CBD and CBD isolate products. Broad-spectrum products contain the full range of cannabinoids and terpenes but no THC. Isolate products contain CBD only.
Social is also branching into offering non-CBD supplements using the name Social Naturals.
The brand offers a 20 percent veteran's and first responder's discount. You can also receive a discount if you have a product subscription — that is, place an order to purchase a product every month.
Some customer reviews — both on their website and other sites, such as Trustpilot — complain about shipping times, saying that it took longer than expected to receive their products. However, Social CBD seems to respond to many of these negative reviews individually, offering to remedy the situation.
Most reviews on Trustpilot and Social CBD's website are positive.
Return policies
Social CBD offers a no-hassle 30-day return policy. If you want to return their products, they have to be unused and unopened in the original packaging.
However, they consider "some health and personal items" — it's not clear which ones — to be nonrefundable. Check with the company before you buy if you want to make sure the product you're interested in is returnable.
Pricing guide
$ = under $40
$$ = $40–$60
$$$ = over $60
Cinnamon Leaf Broad-Spectrum CBD Drops
This cinnamon-flavored CBD oil uses natural flavoring, and it's totally vegan, soy-free, and sugar-free. It uses an MCT oil base and is sweetened with stevia.
What's convenient about this CBD oil is that it comes in a range of different strengths. If you're new to CBD, you might want to try the 375 mg bottle. If you need a higher dosage, the 1,500 mg option may be best for you.
Buy Cinnamon Leaf Broad-Spectrum CBD Drops online.
Rest Body Lotion
Many people use CBD to improve sleep. This lotion is aimed at those who want to use CBD for some shut-eye. It uses ingredients that are said to promote relaxation and rest, such as the essential oils of lavender, bergamot, and chamomile.
It also contains magnesium, which is often used to aid relaxation. However, there's mixed research on whether magnesium is effective when applied to the skin.
Reviewers say that this lotion smells pleasant and has a nongreasy texture while moisturizing the skin. Unfortunately, this lotion isn't vegan-friendly.
Buy Rest Body Lotion online.
Unflavored Broad-Spectrum Drops
Much like the cinnamon-flavored CBD drops, these drops are vegan-friendly, soy-free, and sugar-free. They also come in three different potencies, making it easier for you to get the ideal dosage of CBD.
The unflavored drops might be best suited to someone who doesn't mind the flavor of hemp — many people find it too herbal or plant-like to use directly. Alternatively, Social CBD suggests that you can add the oil to food or drinks.
Buy Unflavored Broad-Spectrum Drops online.
Red Raspberry Gummies
Social CBD has a range of CBD-infused gummies, which are convenient if you want a consistent dosage of CBD without having to measure droplets of oil every day. These raspberry-flavored gummies are flavored with natural fruit extract and contain no artificial colors, flavors, or fragrances.
The reviews suggest that the gummies have a calming effect on the user. Some people complain about the taste, while others enjoy it — it's really a matter of personal preference. These gummies contain gelatin, so they're not vegan-friendly.
Buy Red Raspberry Gummies online.
There is an overwhelming number of CBD products out there, which can make it difficult to choose the best CBD product for you.
If you're looking for a product that addresses a specific concern, keep that in mind when shopping. Topical CBD products are best suited for pain in a localized area or skin issues such as acne or eczema.
If you're using CBD for other issues, such as full-body pain, sleep issues, or anxiety, it's better to ingest CBD. When taken by mouth, the CBD in oils, gummies, and capsules can enter the bloodstream.
Remember that what works for one person might not work for the other. While some people prefer oil, others might find gummies easier to use, and others might prefer capsules or edibles. Different flavors and forms of CBD appeal to different people, so feel free to experiment with different products until you find something you love.
It can be tough to figure out your ideal CBD dosage. Social CBD offers directions on using their products, but bear in mind that you might want a lower or higher dose than suggested.
If you're new to CBD, start with a low amount, perhaps 10 mg or 20 mg per day. Gradually increase it until you feel the desired effects, whether that's a sense of relaxation, better sleep, or a more manageable pain level. If your symptoms are more severe, you might want to have a slightly stronger dose.
Topical CBD products often include instructions based on the kind of product: Some are balms, some are skin care lotions, others are sunscreens, and so on. It's hard to measure how much product you apply to your skin, but if the dose doesn't feel effective enough, you might want to try a stronger topical. Reapply as needed.
The available research suggests that CBD is safe for human consumption. However, there are a handful of potential side effects, including:
fatigue
diarrhea
changes in appetite
changes in weight
If you experience these side effects, stop using CBD (or use less). Talk to your doctor if you'd like to use CBD but experience unpleasant side effects.
The way you consume CBD is important. Some research suggests that consuming CBD with high fat meals could increase CBD blood concentrations. This can increase the risk of side effects.
Unfortunately, CBD can interact with some medications, especially medications that carry a grapefruit warning. If you're on any medication, talk to a CBD-friendly doctor or knowledgeable cannabis clinician. It's always a good idea to consult with a medical professional before using any health products, including CBD.
Social CBD offers a wide range of different CBD products and generally receives a lot of positive reviews online. They offer batch-specific COAs online.
Remember to speak to a doctor before using CBD — even though it's considered safe for human consumption, it can potentially interact with medication and cause certain side effects.
Is CBD Legal? Hemp-derived CBD products (with less than 0.3 percent THC) are legal on the federal level, but are still illegal under some state laws. Marijuana-derived CBD products are illegal on the federal level, but are legal under some state laws. Check your state's laws and those of anywhere you travel. Keep in mind that nonprescription CBD products are not FDA-approved, and may be inaccurately labeled.