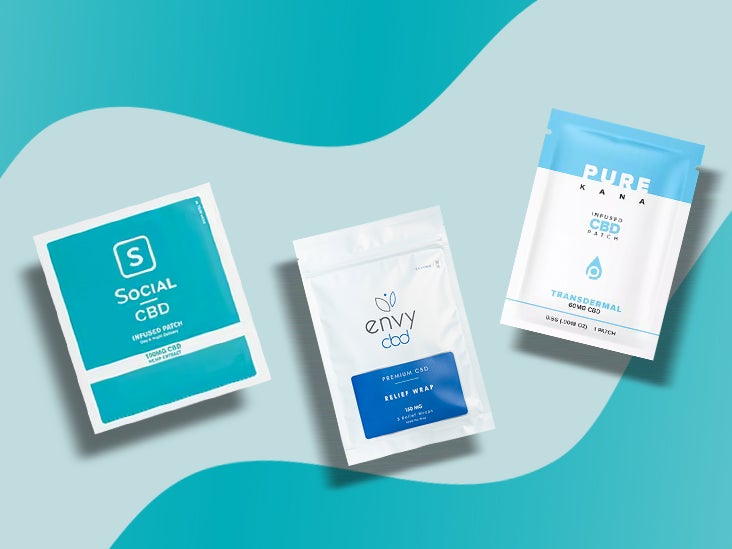 If you're interested in trying cannabidiol (CBD) to quell pain or inflammation in a specific area of your body, one way you can take it is through a patch. When applied to your skin, a patch allows the CBD to be absorbed in a targeted area.
Patches are convenient and discreet, but you might be wondering whether they're really as effective as CBD oils, gummies, or even lotions. Read on to learn about the research and get our top picks for the best CBD patches out there.
CBD patches are about as effective as CBD that's taken orally. But they offer several advantages over oral CBD, according to a 2018 review of studies.
As the researchers explain, CBD that's taken orally is metabolized first by your body before it starts circulating in your bloodstream. CBD that's taken through the skin — like in a patch — doesn't have to go through this intermediate step, so more of it gets to circulate in your blood. More CBD in your bloodstream means more CBD that can get to the site of your pain.
What's more, many CBD patches are designed to remain on the body for several days. You'll get a slow and steady dose that targets the exact area you need, rather than having to remember to take CBD oil or apply CBD lotion each day.
There are downsides, however. Many companies add chemical carriers to help the CBD penetrate the skin and reach the bloodstream. Some people may be allergic to these chemicals.
The researchers in the same 2018 review note that the adhesive used in patches can cause skin irritation in some people, especially those with sensitive skin.
Additionally, a patch will be more effective if you have a specific area you want to treat, such as your shoulder or lower back, rather than dealing with general or diffuse aches and pains throughout your body.
Research from 2020 suggests that topical CBD may be an effective treatment in decreasing inflammation and blocking pain in the recovery of back injury as well as relieving nerve pain. Topical CBD has also been shown to promote muscle relaxation in chronic pain disorders.
It's important to note that research on transdermal CBD patches is limited. These products can be expensive and may be as effective as a CBD topical, so it's best to do your own research before deciding on the right product for you.
It may also be possible for tetrahydrocannabinol (THC) to show up on a drug test after using a patch made with full-spectrum CBD. If you want to avoid THC, look for a CBD isolate product, which contains only CBD, instead.
We chose these products based on criteria we think are good indicators of safety, quality, and transparency. Each product in this article:
is made by a company that provides proof of third-party testing by an independent lab
is made with U.S.-grown hemp
contains no more than 0.3 percent THC, according to the certificate of analysis (COA)
is free of pesticides, heavy metals, and molds, according to the COA
We also considered:
company certifications and manufacturing processes
product potency
overall ingredients
indicators of user trust and brand reputation, such as:

whether the company makes any unsupported health claims
Pricing guide
$ = under $15
$$ = $15–$25
$$$ = over $15
Best beginner CBD patch
Social CBD Infused Patch
CBD type: Broad-spectrum
CBD potency: 20 mg, 60 mg, or 100 mg
COA: Available here
Price: $–$$$
These patches are made with broad-spectrum CBD, which doesn't contain any tetrahydrocannabinol (THC). Designed to last 24 hours, they're sweat- and water-resistant, allowing you to go about your day without worry.
You can buy them in one- or three-packs at a few different potency levels. If you're new to CBD and don't yet know how you'll react to it, it's best to start at the 20 milligram (mg) option and build from there. Later, if you want something more potent, the 100 mg CBD patch is one of the strongest you can find.
Social CBD posts batch-specific COAs here. We reviewed COAs for each potency level and noticed that some of the patches contained more CBD than the labels claimed. It's always best to review COAs before making any CBD purchase, just to make sure that you're comfortable with what you're getting.
If you try the patches and like them, Social CBD offers subscription plans so you won't run out — all while saving some cash.
Best CBD wrap
Envy CBD Face Mask
CBD type: Full-spectrum
CBD potency: 50 mg
COA: Available here
Price: $$
Envy CBD states that its Relief Wraps are made with full-spectrum CBD, though the COA suggests it's CBD isolate. The COA also shows higher than usual levels of residual solvents. This is likely because of the additional ingredients needed for absorption through the skin.
These CBD wraps are available in a three-pack. Each wrap supplies 50 mg of full-spectrum CBD. Once you put it on, Envy CBD says you can expect relief within 45 minutes to 1 hour, and that each wrap will last 4 to 6 hours.
One thing to note is that these wraps are nonadhesive, so they're best used when you're not up and moving around. The upside is that since they aren't sticky, you can place them on joints or other areas that wouldn't be suitable for a stick-on patch.
The wraps also boast herbal ingredients, like skullcap, licorice root extract, and menthol. You'll like the tingly cool feeling on contact that can ease aches.
Best long-lasting CBD patch
PureKana CBD Transdermal Patches
CBD type: Full-spectrum
CBD potency: 60 mg
COA: Available on product page
Price: $$
PureKana says these patches are made with full-spectrum CBD, but the COA shows they don't contain any THC. That means they may be better classified as a broad-spectrum product. The company doesn't test for residual solvents, or by-products of extraction processes.
Designed with a hypoallergenic backing to avoid skin sensitivity, the patches are waterproof and made with soothing aloe, coconut oil, and shea oil to provide moisture at the site. Use one patch for 4 days and then change it out.
PureKana's CBD patches are made in California and use Kentucky-grown hemp.
Look for CBD patches that meet the following criteria:
The company provides current, readily available COAs.
The product says how much CBD is in it.
The product contains less than 0.3 percent THC. This is the federally legal limit. Some states may allow products with higher amounts of THC.
The company is transparent about where it grows or sources its hemp.
The company tells you exactly what's in each patch.
Product testing is done by an independent third-party lab.
Additionally, think about how long you'd like to wear the patch and what features are important to you. Some patches can be applied for several hours, a full 24 hours, or as long as several days. Some may be sweatproof or waterproof, allowing you to keep them on even while showering.
Most patches will be stick-on, but some may be more of a wrap style and won't be sticky.
You'll be able to use a CBD patch in a couple of ways.
If the patch is adhesive, you'll remove it from the package and place it on the area that's achy or sore. Adhesive patches are best used on soft tissue sites, like the lower back, rather than, say, a joint like an elbow, where it can come off with movement. Wear for the maximum amount of time the packaging suggests, remove, and then reapply another if necessary.
If the patch is nonadhesive, you'll use it much like you would a heating pad: Place it on the affected area and kick back while it works its magic. Discard after the recommended number of hours indicated on the package.
If you're new to CBD, look for a low-dose patch and build from there, if necessary, after you know how your body responds. Follow this guide for more information about determining the right dose for you.
While CBD is generally considered to be safe, some people may experience side effects, including fatigue, diarrhea, changes in appetite, and changes in weight, according to a 2017 review of studies.
CBD can interact with medications you may be taking. Talk to your doctor before starting CBD to make sure it's safe for you. Don't use CBD while pregnant or breastfeeding.
If you develop irritation, stop using it. Don't use adhesive patches on broken skin.
CBD patches are a good option if you're looking for targeted pain or soreness relief in a specific spot on your body. They offer fast absorption and are available in varying potencies. Be sure to talk to your doctor before taking CBD.
Is CBD Legal? Hemp-derived CBD products (with less than 0.3 percent THC) are legal on the federal level, but are still illegal under some state laws. Marijuana-derived CBD products are illegal on the federal level, but are legal under some state laws. Check your state's laws and those of anywhere you travel. Keep in mind that nonprescription CBD products are not FDA-approved, and may be inaccurately labeled.
Jessica Migala is a freelance writer specializing in health, nutrition, and fitness content. She lives in Chicago with her husband, two young sons, and rescue pup. Find her on LinkedIn or on Instagram.