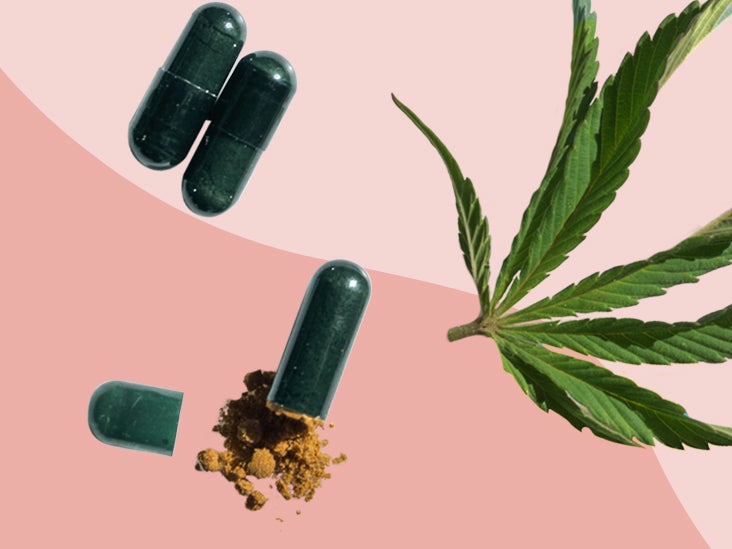 Cannabidiol (CBD) is a hemp-derived compound that shows promise for relieving pain, inflammation, and anxiety. Compared with tetrahydrocannabinol (THC), CBD is non-impairing, meaning it won't get you "high."
CBD oil is one of the most common types of CBD products, but it isn't the only one. You can also take CBD in a pill or capsule. Pills and capsules are easy to use and can provide more consistent dosing than oils, as each dose is premeasured.
However, unlike CBD oils, CBD capsules and pills are subject to additional breakdown in your digestive tract via the first pass effect, which may decrease the potency.
Currently, the Food and Drug Administration (FDA) doesn't guarantee the safety, effectiveness, or quality of over-the-counter (OTC) CBD products. However, in order to protect public health, they can take action against CBD companies that make unfounded health claims.
Since the FDA doesn't regulate CBD products in the same way they regulate drugs or dietary supplements, companies sometimes mislabel or misrepresent their products. That means it's especially important to do your own research and find a quality product.
We're here to help with our top seven picks of some of the best CBD pills and capsules on the market today. We'll also go over how to choose a product, as well as cover safety and side effect information.
Where available, we've included special discount codes for our readers.
CBD Glossary
Cannabinoids: Cannabis-derived compound, such as THC and CBD.
Terpenes: Aromatic compounds produced by plants. The terpenes in cannabis are partially responsible for its distinct effects.
Full-spectrum: Contains all compounds (i.e., cannabinoids and terpenes) found in cannabis.
Broad-spectrum: Contains all compounds found in cannabis except for THC.
CBD isolate: Pure CBD, with no other cannabinoids or terpenes.
We chose these products based on criteria we think are good indicators of safety, quality, and transparency. Each product in this article:
is made by a company that provides proof of third-party testing
is made with U.S.-grown hemp
contains no more than 0.3 percent THC, according to the certificate of analysis (COA)
passes tests for pesticides, heavy metals, and molds, according to the COA
As a part of our selection process, we also considered:
certifications and manufacturing processes
whether the ingredients are certified organic
indicators of user trust and brand reputation, such as:

customer reviews
whether the company has been subject to an FDA warning letter
whether the company makes any unsupported health claims
Additionally, most of the products on this list contain full-spectrum CBD. Full-spectrum CBD, also known as whole plant extract, has some advantages over isolate — namely, the entourage effect, a theory that states cannabinoids work better together than they do alone.
Pricing guide
$ = under $50
$$ = $50–$75
$$$ = over $75
Medterra CBD Gel Capsules
Use code "health15" for 15% off
The hemp used in Medterra's CBD Gel Capsules is non-GMO and organically grown. The company offers a 30-day money-back guarantee, so if you're new to CBD and not sure if it'll work for you, this is another product that may be a good one to try.
Medterra is U.S. Hemp Authority certified, and all of their suppliers follow good manufacturing practices (GMPs). Batch-specific COAs are available online.
Price: $
| | |
| --- | --- |
| CBD type | Isolate (THC-free) |
| CBD potency | 25 milligrams (mg) per capsule or 50 mg per capsule |
CBDistillery CBD Softgels
Use code "healthline" for 15% off sitewide.
The hemp used to make these softgels from CBDistillery is non-GMO and farmed using natural practices.
This product has been third-party lab tested and has passed for heavy metals, solvents, pesticides, molds, and even water activity. Water can create mold in hemp flowers. One important thing to note is that though the COA states "pass" for heavy metals, solvents, pesticides, and molds, it doesn't specify exactly which contaminants were tested.
COAs can be found online or by scanning the QR code on your bottle. The company offers a 60-day money-back guarantee, making them a good choice for first-timers.
Price: $$
| | |
| --- | --- |
| CBD type | Broad-spectrum (THC-free) |
| CBD potency | 30 mg per softgel |
Joy Organics CBD Softgels with Curcumin
Use code "healthcbd" for 15% off.
One marker of a very high-quality product is having test results available for every batch of the product, rather than just a sample COA. Joy Organics is one such brand. You can view batch-specific testing results here.
These CBD softgels have added curcumin, the active substance in turmeric. Curcumin has anti-inflammatory properties. The product uses nanoemulsion, which could help improve bioavailability.
Price: $$$
| | |
| --- | --- |
| CBD type | Broad-spectrum (THC-free) |
| CBD potency | 25 mg per softgel |
Lazarus Naturals Energy Blend CBD Isolate Capsules
Lazarus Naturals' Energy Blend CBD capsules combine CBD isolate with a few other key ingredients to provide a quick energy boost. What's nice about this blend is that although it includes caffeine, that's not the only energy-boosting ingredient. It also includes B vitamins and L-theanine, an amino acid that can produce a calming feeling.
Batch-specific test results can be found on the product page. Though this is an isolate product, some batches show very small amounts of THC. If you're concerned about THC, be sure to check the results for your specific batch.
The company offers an assistance program for veterans, people with low incomes, and people with disabilities.
Price: $
| | |
| --- | --- |
| CBD type | Isolate (THC-free) |
| CBD potency | 25 mg per capsule |
Bluebird Botanicals Concentrated CBD Capsules
These concentrated CBD capsules combine full-spectrum hemp extract with organic hempseed oil.
Similar to Joy Organics, Bluebird Botanicals has dated test results available for every batch of each product they sell. The company is certified by the U.S. Hemp Authority and, according to their website, they received a 100 percent score in a third-party GMP audit in 2019.
This is the one product on our list that isn't made from U.S.-grown hemp. Though Bluebird Botanicals uses U.S.-grown hemp in many of their products, they use Canadian hemp in their Classic and Signature products.
Price: $$$
Bluebird offers an assistance program for people with low incomes.
| | |
| --- | --- |
| CBD type | Full-spectrum (less than 0.3 percent THC) |
| CBD potency | 15 mg per softgel |
Fabuleaf Full-Spectrum Hemp Flower CBD Oil Softgels
This capsule from Fabuleaf is unique in that it contains a large amount of terpenes, including beta-caryophyllene, limonene, pinene, and myrcene, according to the COA on the product page. This may be because Fabuleaf uses only hemp flower in their products, rather than using seeds, stalks, stems, or leaves.
Fabuleaf's hemp is organically grown, and their products are cruelty-free. Each product comes with a QR code that, when scanned, takes you directly to the COA.
Price: $
| | |
| --- | --- |
| CBD type | Full-spectrum (less than 0.3 percent THC) |
| CBD potency | 10 mg per softgel |
Royal CBD Capsules
Royal CBD's softgel capsules are made from non-GMO hemp with added beta-caryophyllene. Beta-caryophyllene is a terpene found in cannabis and black peppercorns that has anti-inflammatory properties, making these capsules another great pick for those seeking the maximum therapeutic benefit from CBD.
While products are third-party tested, as of publication, lab results aren't available online. However, the company is currently in the process of adding scannable COAs to all products. Until then, they're available by emailing the company.
Price: $$$
| | |
| --- | --- |
| CBD type | Full-spectrum (less than 0.3 percent THC) |
| CBD potency | 25 mg per capsule |
Navigating the CBD world of can be overwhelming, even for more experienced users. Here's what to look for when evaluating a product.
Comprehensive, up-to-date COA
Look for a product that has a certificate of analysis, or COA, from a third-party lab. At a minimum, most brands will include the cannabinoid profile and potency. Check to make sure this matches what's on the product label.
Some companies also test for contaminants like:
heavy metals
molds
pesticides
residual chemicals or solvents
Products that provide this information (and pass) are your best bet safety-wise.
If the company doesn't provide a COA or provides one that's incomplete or old, it probably isn't the most quality company.
CBD source and type
Look for products made with U.S.-grown hemp, which is subject to agricultural regulations.
Also consider the type of hemp. If you're looking for a product that's federally legal, look for a full-spectrum product with less than 0.3 percent THC, or an isolate or broad-spectrum product.
Red flags
Watch out for red flags when shopping. These include:
Exaggerated health claims. Although CBD may help with certain conditions, it's not a cure-all. Avoid companies that claim their product can treat or cure any disease.
Misleading ingredients. Some brands may try to sell hempseed oil masquerading as CBD. If a product only lists hemp seeds, hempseed oil, or Cannabis sativa seed oil, but doesn't list cannabidiol, CBD, or hemp extract, it doesn't contain CBD.
Many poor reviews, customer complaints, lawsuits, or FDA warning letters. As with any product, do your research before making a purchase. You can look at sites like Trustpilot and the Better Business Bureau (BBB), and you can also do some research to see whether the company has had any legal trouble in the past.
You can learn more about how to read a CBD product label here.
Find what's right for you
When looking for a pill or capsule to suit your specific needs, consider the cannabinoid and terpene profile, potency, type of CBD, and additional ingredients.
For example, if you want something you can use before bedtime, look for a product that contains high levels of linalool, a terpene found in lavender and cannabis. Linalool has been shown to help with relaxation and anxiety, which may aid in sleep.
Consider other factors that may be important to you. For example, if you're a vegetarian, you'll want to read ingredient lists closely and look for a product that doesn't contain gelatin — as many of these products do. Depending on how easy it is for you to swallow pills, you may also want to consider capsule size and shape.
Dosing CBD can be tricky. There's no one-size-fits-all dose because everyone's body responds differently to CBD. The clinical evidence we have for dosing CBD in humans is limited, and more research is needed before we can determine ideal safe doses.
With that in mind, the golden rule of dosing is "go low and slow." Start at a low dose, see how it makes you feel, and adjust as needed. Some people find starting with 10 or 20 mg of CBD works, while others may need 40.
Adjusting by 5 to 10 mg at a time is a safe bet. It may take a few weeks of experimenting before you find your ideal dose. You'll know a dose is just right if you begin to experience a reduction in symptoms.
Keep in mind that full- or broad-spectrum products can feel more potent than an isolate.
Studies show that CBD is considered to be safe and generally well-tolerated in humans at doses of up to 1,500 mg per day. However, CBD users may still experience some side effects. These can include:
fatigue
diarrhea
changes in appetite
changes in weight
Talk to your physician before using CBD, especially if you're taking any medications. CBD can have significant drug interactions.
Some research suggests that consuming CBD products along with high fat meals can drastically increase CBD concentrations. This may increase the risk of side effects.
CBD pills are easy to use and offer reliable dosing. However, they may experience breakdown in the digestive tract, making them feel less potent.
You'll need to experiment until you find your "just right" CBD dose. Be sure to consult a doctor before trying CBD.
Is CBD Legal? Hemp-derived CBD products (with less than 0.3 percent THC) are legal on the federal level, but are still illegal under some state laws. Marijuana-derived CBD products are illegal on the federal level, but are legal under some state laws. Check your state's laws and those of anywhere you travel. Keep in mind that nonprescription CBD products are not FDA-approved, and may be inaccurately labeled.