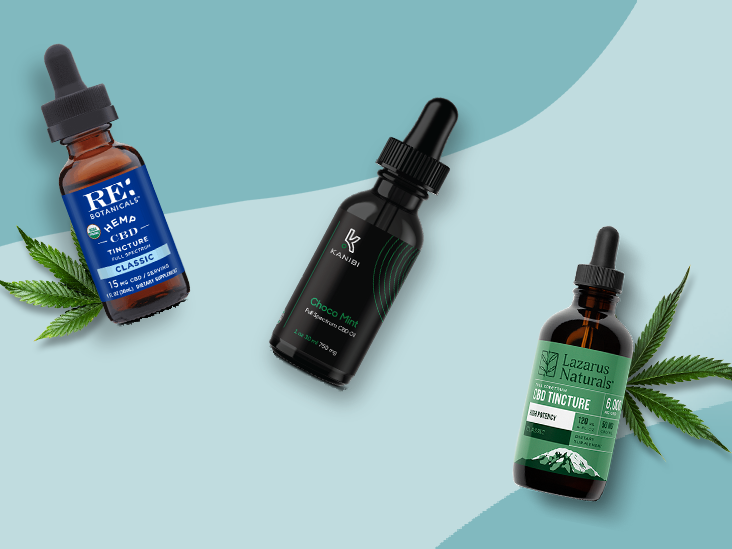 If you're on the hunt for a great CBD product, you may have noticed that you have lots of choices. Not only are there different types of products — including oils, gummies, lotions, and even beauty products — but there are also different types of CBD.
Although CBD isolate, broad-spectrum CBD, and full-spectrum CBD all have their own unique qualities, full-spectrum CBD is the only one that has all compounds of the cannabis plant, which includes both cannabidiol (CBD) and tetrahydrocannabinol (THC). That may make it particularly beneficial, thanks to the entourage effect.
Read on to learn more about the benefits of full-spectrum CBD and get our take on some of the best full-spectrum CBD tinctures out there.
Tinctures vs. oils
While the term "CBD tincture" is often used interchangeably with "CBD oil," the two are actually different. Tinctures are made by soaking cannabis in alcohol, while oils are made by suspending CBD in a carrier oil, like olive or coconut oil.
The entourage effect is a theory that CBD works better when it's combined with other parts of the cannabis plant. That can include other cannabinoids (like THC), terpenes, and flavonoids.
While research is ongoing, some studies support this theory. A 2018 study compared the effects between CBD-rich cannabis extracts and CBD isolate extracts on people with refractory epilepsy. Participants appeared to respond better with CBD-rich cannabis extracts at a lower dosage than they did with purified or CBD isolate extracts. The authors of the study believe that the mixture of CBD and THC created an entourage effect, resulting in a more potent extract.
Full-spectrum CBD is unique because it's the only type of CBD that contains everything found in the cannabis plant. That means that if you're looking to reap the benefits of the entourage effect, it may be the best choice.
We chose these products based on criteria we think show that the manufacturers are prioritizing safety and quality, and are honest about their products. Each product in this article:
is made by a company that provides proof of third-party testing by an ISO 17025-compliant lab
is made with U.S.-grown hemp
contains no more than 0.3 percent THC, according to the certificate of analysis (COA)
passes tests for pesticides, heavy metals, and molds, according to the COA
We also considered:
certifications and manufacturing processes
product potency
overall ingredients
indicators of user trust and brand reputation, such as:

customer reviews
whether the company has been subject to a Food and Drug Administration (FDA) warning letter
whether the company makes any unsupported health claims
Pricing guide
$ = under $30
$$ = $30–$70
$$$ = over $70
Lazarus Naturals High Potency CBD Tincture
Price: $–$$$
CBD potency: 750 milligrams (mg) per 15-milliliter (mL) bottle, 3,000 mg per 60-mL bottle, or 6,000 mg per 120-mL bottle
This tincture is made using ethanol to release the CBD from hemp. Ethanol extraction is said to preserve more of the natural terpenes found in cannabis — and the COA does show that the tincture contains beta-caryophyllene and humulene, two potentially beneficial terpenes. While more research is needed, a 2016 study suggested that beta-caryophyllene may have anti-cancer and pain-relieving properties.
A drawback to ethanol extraction is that it can leave trace amounts of solvents behind. However, Lazarus Naturals tests all its products for residual solvents to make sure you aren't ingesting anything that could be dangerous.
This particular tincture is unflavored, but it also comes in french vanilla mocha and chocolate mint.
The company offers assistance programs for veterans, people with long-term medical disability, and people with low incomes.
Buy Lazarus Naturals High Potency CBD Tincture online.
Veritas Farms Full Spectrum CBD Tincture
Price: $–$$$
CBD potency: 250–2,000 mg per 30-mL bottle
This non-GMO CBD tincture is made from hemp grown on a Colorado farm. Like most tinctures, it can be mixed into hot or cold beverages or taken under your tongue.
If you don't mind the flavor of cannabis, you can try the unflavored version. If you're looking for something a little different, it also comes in citrus, peppermint, watermelon, and strawberry flavors. All five options are made with fractionated coconut oil, while the four flavored versions also contain stevia, essential oils, and natural flavoring.
In addition to beta-caryophyllene and humulene, the COA shows that it also contains linalool, a terpene that may promote relaxation.
Buy Veritas Farms Full Spectrum CBD Tincture online. Use code "HEALTHLINE" for 15% off.
4 Corners Cannabis Oral Tincture, Coconut Citrus
Price: $$–$$$
Potency: 250–500 mg per 15-mL bottle, or 1,000–2,000 mg per 30-mL bottle
The creators of 4 Corners Cannabis extract their tinctures using organic sugar cane alcohol sourced from Brazil. If you enjoy flavored tinctures, this one has hints of orange (thanks to the added limonene) and coconut.
The COA shows that it has small amounts of cannabigerol (CBG), another potentially beneficial cannabinoid.
To use, 4 Corners Cannabis recommends holding the product under your tongue for 30 to 60 seconds before swallowing.
Buy 4 Corner Cannabis Oral Tincture Online. Use code "SAVE25" for 25% off.
CBDistillery Full Spectrum CBD Oil Tincture
Price: $$
Potency: 500 mg per 30-mL bottle
This extract is made from non-GMO industrial hemp and fractionated coconut oil. If you're looking for something a little more potent, it also comes in 1,000 mg, 2,500 mg, and 5,000 mg bottles.
CBDistillery is certified by the U.S. Hemp Authority. The company uses CO2 extraction to make its full-spectrum products. This extraction method is said to result in a "cleaner" product since it doesn't leave behind any harsh chemicals. However, it may reduce the amount of terpenes left in the final product. The COA notes that terpenes have been tested, but doesn't say exactly which terpenes are present in the final product.
Buy CBDistillery Full Spectrum CBD Oil Tincture online. Use code "healthline" for 15% off.
Kanibi Full Spectrum CBD Oil Tincture, unflavored
Price: $$–$$$
Potency: 750 mg or 1,500 mg per 30-mL bottle
This extract includes medium chain triglycerides (MCT) oil, which allows for easy digestion and absorption.
Kanibi says this product is made with organic Kentucky hemp. If you're put off by the flavor of cannabis, you can also buy it in five other fun flavors: cinnamon, choco mint, lemon lime, skittles, and peppermint.
In addition to CBD, the COAs show small amounts of THC and CBG, but no other cannabinoids. They don't include terpene testing results.
Buy Kanibi Full Spectrum CBD Oil Tincture online. Use code "HEALTHLINE10" for 10% off.
RE Botanicals Hemp CBD Tincture Full Spectrum Classic
Price: $$$
Potency: 2,500 mg per 100-mL bottle
Just two simple ingredients make up this tincture: coconut oil and hemp extract. The COA shows small amounts of THC, CBG, and cannabinol (CBN). It also comes in peppermint flavor, with a few different potency options.
RE Botanicals is USDA-certified organic, which is hard to find in the CBD world. While many companies may use organic farming practices, the USDA certification can give you an extra layer of quality assurance.
In addition to ensuring high quality ingredients, RE Botanicals donates 1 percent of sales to regenerative agriculture to help farmers create healthier soils.
Buy RE Botanicals Hemp CBD Tincture Full Spectrum Classic online.
Absolute Nature CBD Full Spectrum 1,000 mg CBD Oil Drops
Price: $$$
Potency: 1,000 mg per 30-mL bottle
Made with organically grown Colorado hemp, this brand uses CO2 to process their tincture.
It includes fractionated coconut oil for better absorption and contains small amounts of cannabichromene (CBC), according to the COA.
To help make CBD more accessible, Absolute Nature offers an assistance program for veterans, first responders, people with low income, people with long-term disabilities, people with epilepsy, and autistic people.
Buy Absolute Nature CBD Full Spectrum 1,000 mg CBD Oil Drops online.
Keep in mind that even though CBD shows promise as a complementary treatment for certain conditions, as well as helping people sleep better and manage pain, it still requires more research.
There's only one FDA-approved CBD drug, which is used to treat two types of seizures tied to epilepsy. Currently, there are no over-the-counter CBD products approved by the FDA, and the FDA doesn't regulate CBD the same way it does supplements and drugs.
That's why it's important to do your own research to find the best quality CBD products.
The first thing you'll want to do is check for a certificate of analysis (COA). This should be from a reputable third-party lab, and it should be up to date — usually no more than 12 months old.
You can use the COA to verify that the product actually contains the amount of CBD and THC as the label says it does. The COA will also tell you whether the product has passed contaminant testing.
Additionally, look for a company that's transparent about how it makes its products and where it sources its hemp. The more information it can provide to you, the better.
If you're still uncertain on whether or not you can trust a brand, browse any negative reviews you can find about them. Another warning sign is if the company is making false health claims and has been given an FDA warning letter.
CBD exists in various forms. You've probably seen it in oils and tinctures, creams, pills, and gummies for starters.
While pills and gummies are pretty self-explanatory, tinctures can be a little more mystifying. But don't worry — they're easy to use too. You can either add them to food or drinks, or you can place them under your tongue and hold them there for up to 1 minute before swallowing.
Figuring out the correct dosage for yourself will depend on your body weight, the concentration of the CBD you're taking, and the reason you're taking it.
Make sure to follow the directions on the bottle. If you're uncertain, it's best to be cautious and take the smallest dosage recommended. Once you understand how your body reacts to this amount, you can gradually increase it over time.
According to the World Health Organization (WHO), CBD is generally considered safe. But it's still important to take precautions and discuss with your doctor if you're on any medications. Some medications can negatively interact with CBD.
In rare circumstances, some people may experience side effects including fatigue, diarrhea, changes in appetite, and changes in weight.
It's advised to avoid ingesting CBD with higher fat meals. One study found that there was an increased risk of your blood having higher CBD concentrations when CBD was taken with a high-fat meal. This can increase your chances of having side effects.
Whether it's your first time taking CBD or you're an experienced user, it's helpful to be well informed about the products you buy. Look for a tincture that comes with a clear, comprehensive COA.
If you take any medication, get clearance from your doctor before adding CBD to your regimen.
Is CBD Legal? Hemp-derived CBD products (with less than 0.3 percent THC) are legal on the federal level, but are still illegal under some state laws. Marijuana-derived CBD products are illegal on the federal level, but are legal under some state laws. Check your state's laws and those of anywhere you travel. Keep in mind that nonprescription CBD products are not FDA-approved, and may be inaccurately labeled.