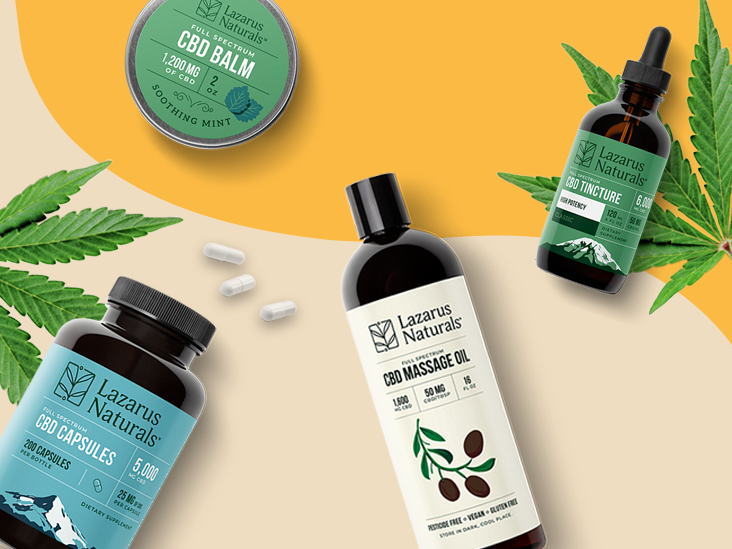 Cannabidiol (CBD) is a naturally occurring chemical compound unique to cannabis plants. It's part of a group of compounds called cannabinoids.
Research evaluating the therapeutic benefits of CBD is currently limited. But preliminary studies show promising effects for conditions such as insomnia, chronic pain, and anxiety. It's non-impairing, which means it won't make you feel "high" like THC will.
The market for CBD products has exploded in recent years, with new products ranging from massage oils to coffee to dog treats. These products aren't regulated in the same way as drugs or dietary supplements, and the Food and Drug Administration (FDA) doesn't make any guarantees about their quality, safety, or effectiveness.
While the FDA can pursue companies that make false medical claims, it's still incredibly important to do your own research when shopping for CBD products.
Lazarus Naturals is an employee-owned company that was founded in 2014 and is based in Portland. This article provides an overview of Lazarus Naturals, along with information about some of their top products.
CBD glossary
THC refers to delta-9-tetrahydrocannabinol, another cannabinoid. It causes the "high" associated with smoking or ingesting marijuana.
Terpenes are aromatic compounds found in a number of plants, including the cannabis plant.
Flavonoids are plant compounds that have anti-inflammatory effects.
Full-spectrum refers to CBD products that contain all the naturally occurring compounds in cannabis, including terpenes, flavonoids, and a very small amount of THC. To be legal at the federal level, the product can't contain more than 0.3 percent THC.
Broad-spectrum refers to CBD products that contain all the naturally occurring compounds in cannabis, except THC.
Isolate refers to pure CBD extracts that don't contain compounds such as terpenes or flavonoids.
Lazarus Naturals has a generally positive reputation due to their generous assistance programs, 90-day return policy, and overall transparency about their products.
They've never received a warning letter from the FDA for using illegal marketing practices. In addition, they have a policy of not posting customer reviews — including positive reviews — that violate the FDA's guidelines about CBD health claims.
This suggests that they're committed to preventing misinformation about what their products can and can't treat. However, it also indicates that they monitor the reviews that get posted on their website.
Customers can feel good about this brand's commitment to social causes. In January 2020, they implemented a $20 minimum wage for all of their hourly employees, which is well above the minimum wage in Oregon and Washington, where they operate.
During the COVID-19 pandemic, they made and donated hand sanitizer to homeless shelters and food banks in their area and offered free CBD products to essential workers.
They also have a history of donating to worthy causes, including Women in Need New York City and the Epilepsy Foundation.
Lazarus Naturals offers its customers a high level of transparency regarding the sourcing, manufacturing, and testing of their products.
Sourcing
According to their website, the majority of their hemp comes from a company-owned farm in Oregon. This accounts for all of their full-spectrum products and most of their isolate products. The remaining 30 percent of their hemp is outsourced from farms certified through the Oregon Department of Agriculture's Hemp Program.
Manufacturing
Lazarus Naturals uses ethanol to extract the CBD from their hemp. Compared with carbon dioxide (CO2) extraction, ethanol extraction leaves more terpenes in the final product.
There's also a risk of residual solvents, but Lazarus Naturals says they do an additional purification and distillation step to remove any leftover solvents. Their manufacturing facility follows the FDA's current good manufacturing practices (cGMPs), which is an important indicator of product quality.
Their products don't contain genetically modified organisms (GMOs). Although they're not currently certified organic, the company hopes to achieve organic certification by 2021. Finally, most — but not all — of their products are vegan-friendly. Look for the vegan label on the product page.
Third-party testing
All of Lazarus Naturals' products undergo third-party testing by Columbia Laboratories, formerly known as PIXIS Labs. Columbia Laboratories is an ISO 17025-certified testing lab.
Customers can easily access certificates of analysis (COAs) on each product page by clicking on "test results" and finding the corresponding batch number. The batch number is listed on the product label.
The COAs are comprehensive, including:
cannabinoid potency
residual solvents
pesticides
terpenes
heavy metals
microorganisms
Despite this, the company came under fire in 2019 after NBC 4 New York independently bought and tested five Lazarus Naturals products and reported that one of them contained lead.
However, the sample in question was purchased from an unapproved vendor and didn't have a batch number. In a statement, the company indicated that the product was likely counterfeit, and the amount of lead detected was well below the FDA's maximum daily intake level for lead.
If you're purchasing a Lazarus Naturals product, make sure it's from a trusted vendor. If the product doesn't have a batch number on the label, it might not be authentic.
Additionally, be aware that Amazon prohibits the sale of CBD products. Any products you find for sale on Amazon likely just contain hemp seed, not CBD.
Lazarus Naturals offers a wide range of full-spectrum products, including tinctures, capsules, oils, topicals, and pet products. Many of these products are available in standard and high-potency formulas, with the CBD content per serving size clearly marked in the product description.
They offer a limited range of isolate products, including tinctures, capsules, and raw isolate, which is also available in a bulk format.
Lazarus Naturals' products are very reasonably priced, compared with other vendors. They also offer some affordable bundles to allow you to sample a variety of products at once.
Their customers rave about their generous assistance programs, which offer 60 percent off most of their products for veterans, people on long-term disability, and low-income households. You'll need to provide documentation to qualify for the discount.
Lazarus Naturals has hundreds of stellar reviews on their website and a few third-party websites, including CBD Oil Users. Some reviewers mention positive experiences with the company's customer service representatives, while others mention quick delivery times and free shipping.
Their few negative reviews are mostly related to the taste of certain tinctures, but there are a few about shipping and packaging issues, too.
With that said, this company isn't accredited by the Better Business Bureau (BBB), where they have a D+ rating based on their failure to respond to a complaint and their short operating history. They have only a couple of reviews on both BBB and TrustPilot.
These are some of the best-selling products on the Lazarus Naturals website.
Pricing guide
$ = under $2 per serving
$$ = $2–5 per serving
High Potency Full-Spectrum CBD Tincture
This potent full-spectrum tincture is among Lazarus Naturals' most popular products. Many reviewers say they use it before bed. It comes with a dropper so you can easily control the dose.
With no added flavoring, the earthy taste might not be for everyone. However, the upside is that there are few ingredients and it's an all-natural, vegan, and gluten-free formula.
Buy High Potency Full-Spectrum CBD Tincture online.
RSO CBD Oil
Rick Simpson Oil (RSO) is named after its inventor, a medical marijuana activist. RSO is known for having high levels of THC, but this full-spectrum hemp-extracted version contains 2.2 mg of THC per 1 mL — below the legal limit of 0.3 percent THC by weight.
With 100 mg of CBD per 1 mL, this oil is a high potency product. You can take it under your tongue or mix it into food. The high potency formula also works well if you want to make your own edibles.
Buy RSO CBD Oil online.
25-mg Full-Spectrum CBD Capsules
These full-spectrum capsules will give you the best value per serving among Lazarus Naturals' offerings. They're a good choice for anyone who doesn't like the taste of a CBD tincture or doesn't want to measure out each dose themselves.
While these capsules contain 25 mg of CBD, they're also available in 10-mg and 50-mg formats. The capsules themselves are made from vegetable cellulose, so they're vegan-friendly.
Buy 25-mg Full-Spectrum CBD Capsules online.
Soothing Mint Full-Spectrum CBD Balm
Topical products like this mint balm are ideal for aches and pains. You can apply as needed to the affected area. With topicals, you might need a higher dose to feel the effects since the balm has to pass through your skin.
This balm features nourishing mango butter and beeswax. Its refreshing scent comes from a mixture of essential oils, including menthol, basil, and wintergreen. It contains a small amount of capsaicin, the active ingredient in chili peppers, which has medicinal properties.
Buy Soothing Mint Full-Spectrum CBD Balm online.
Full-Spectrum CBD Massage Oil
This CBD-infused massage oil is a great option for sore muscles. It's thinner than a balm and easier to rub into the skin.
Reviewers say it goes on smooth, dries easily, and doesn't leave a greasy residue. It has a neutral scent, but you can always add essential oils to enhance it. It contains organic jojoba oil, a moisturizer that has antibacterial and antioxidant properties.
Buy Full-Spectrum CBD Massage Oil online.
You can consider a variety of factors when choosing among Lazarus Naturals' products.
Tinctures and capsules are ingested and tend to have a more noticeable all-over effect. They can take an hour or more to start working. High potency formulas are best used before bed or during relaxation time.
Some people find the intense and earthy taste of unflavored tinctures off-putting. If you think the taste might bother you, opt for a flavored tincture or forgo taste altogether with capsules.
If you're looking for a product to ease sore muscles and aching joints, topicals might do the trick. They work wherever you apply them, making them great for targeted pain relief.
Tinctures come with a dropper that you can use to measure out a serving. You can ingest tinctures directly or add them to your food or drinks. Capsules can be swallowed with a glass of water. Topicals are applied to the skin and rubbed in.
The dose you take depends on a lot of factors, including your body size. Most of Lazarus Naturals' products have a recommended serving size listed in the product description. If you're trying the product for the first time, start with a low dose and gradually increase it until you achieve the desired effects.
The World Health Organization suggests that CBD is generally safe. With that said, some people might still experience mild side effects.
According to research from 2017, the most frequently experienced side effects include:
fatigue
diarrhea
changes in appetite
changes in weight
Your diet can affect how your body processes CBD. High fat meals can dramatically increase the amount of CBD in your bloodstream, putting you at an increased risk of side effects. Use caution when taking CBD alongside high fat foods.
It's always a good idea to talk to your doctor or a knowledgeable cannabis clinician before trying CBD. This is especially important if you're currently taking medication. CBD is likely to interact with common medications, particularly those that have a warning about grapefruit.
Lazarus Naturals is a trustworthy CBD vendor known for their transparency, affordable products, and commitment to social issues. Their major products include full-spectrum CBD tinctures, capsules, and topicals. Speak to your healthcare provider before trying any CBD products.
Is CBD Legal? Hemp-derived CBD products (with less than 0.3 percent THC) are legal on the federal level, but are still illegal under some state laws. Marijuana-derived CBD products are illegal on the federal level, but are legal under some state laws. Check your state's laws and those of anywhere you travel. Keep in mind that nonprescription CBD products are not FDA-approved, and may be inaccurately labeled.