Since being legalised in 2018, products containing CBD have taken the US by storm. 
And it's easy to see why: This natural extract has been linked to all sorts of positive effects  Amongst other things, CBD products claim to reduce pain and anxiety, and help you get a better night's sleep.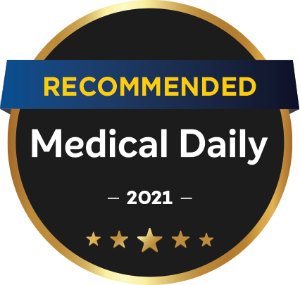 The chemical compound is currently the subject of research into all sorts of positive physical and mental effects, and it's available to buy in almost any format: From gummies to capsules, from vape oils to dog treats. 
If you struggle with anxiety and sleep, CBD gummies might be able to help. 
These little candies are a convenient and delicious way to get a daily dose of cannabidiol, one of the many chemicals found in cannabis, and known as CBD for short. 
It's worth noting that different products have different formulas, with CBD edibles often blended with various combinations of supplementary ingredients including melatonin, vitamin B and many more. 
In recent years, CBD has found increasing appeal as an alternative remedy to combat mental challenges. 
CBD, like many other natural ingredients, is unlikely to be a magic bullet that will solve things at the drop of a hat, but as part of a healthy lifestyle, it may offer many benefits. 
This is increasingly likely when combined with lifestyle choices like meditation, breathing exercises, and staying active. 
In this guide, we'll introduce the 8 best CBD gummies on the market today for sleep, anxiety, and pain. 
So here it is, our list of the 8 best CBD gummies available to buy in 2020.
#1 littledrops
Little Drops cbd gummies from Little Drops
littledrops claim to take a different approach to stand out from the massive number of low-quality CBD products entering the market.
These premium, blueberry-flavoured CBD edibles are made from organic Colorado-grown hemp and infused with 20mg of full-spectrum CBD – that's 600mg per box. Infusion means a superior experience when compared to CBD coatings, which are common in other products.
littledrops product specifications:
Each gummy is infused (rather than coated) with 20mg full-spectrum CBD.
All-natural flavours, organic, and 100% vegan friendly.
Vacuum packed and cured to deliver the best flavour and potency.
High quality: Batches are sample-tested by an FDA registered testing house.
These stylish gummies stand out from the CBD crowd. It's clear they've been designed with care and attention, and they'll deliver the benefits you expect from a premium-quality CBD product.
Pricing: 
A single box costs $59, and a two-box bundle is $118. The Serene Bundle includes a free box: You'll pay just $185 for four. 
littledrops are available here.
#2 Kanibi Organi Gummies
organi cbd from Kanibi
Organi CBD Gummies by Kanibi tops our list as the best CBD gummy for 2020. Not only do these gummies taste fantastic, but their CBD dosage is fully disclosed, CBD oil is sourced from organic hemp plants and there are no added artificial flavors.
Organi CBD Gummies by Kanibi product specifications:
30 fruit gummies per bottle.
10 mg CBD dosage per gummy.
Sourced from organic grown hemp.
Naturally flavored and sweetened.
CBD is infused into gummies, not spray-on.
Pricing: 
Organi Gummies cost $44 per 30 serving bottle.
Kanibi Organi Gummies are available here.
#3 Royal CBD gummies
Royal_cbd from Royal CBD
Royal CBD offer two types of CBD gummy: The 10mg, and the 25mg. The gummies are one of their most sought-after products, and with good reason.
Having a choice between doses is a welcome prospect for people who are new to CBD gummies. You can start small and see how 10mg helps your anxiety, pain, and stress. If you like the results, you can test the waters with 25mg.
Royal CBD gummies product specifications:
Two strengths available: 10mg or 25mg.
All-natural ingredients.
Uses CBD isolate for 99.9% pure CBD.
Tested in third-party labs for consistency.
Royal CBD gummies are slick and well-designed. They're a good bet if you're at the start of your CBD journey, and are looking for a brand with different strength gummies.
Pricing:
The 10mg gummies are $54 per bottle. 25mg gummies will set you back $79 per tub.
Royal CBD gummies are available here.
#4 Charlotte's Web CBD Gummies
charlotte_web_cbd from charlotte Web
Charlotte's Web offers three types of CBD gummy: One for calming, one for sleep, and one for recovery. CALM is the product we're interested in.
CBD is backed up with 75mg of lemon balm and 50mg of L-theanine – two ingredients noted for their impacts on stress and anxiety. You'll find 10mg of full-spectrum CBD per gummy: Half the amount contained in littledrops.
Charlotte's Web CBD gummies product specifications:
The formula encourages relaxation without drowsiness.
Gluten-free and flavoured with natural juices.
Part of a range of CBD products, each with a different focus.
60 gummies per jar.
The Charlotte's Web CBD range is crafted to offer support with relaxation, sleep, or recovery. The CALM gummies are formulated to aid with reducing stress and anxiety.
Pricing: 
These gummies cost $44.99 per box. You can save 10% if you subscribe, and a 3-pack is available for the discount rate of $107.97.
Charlotte's Web CALM CBD gummies are available here.
#5 Hemp Bombs
hemp bombs from hemp bombs
Hemp Bombs also offer three CBD gummies: Original, High-Potency, and Sleep.
Original is what we're interested in—gummies designed to provide total relaxation and stress relief, reducing the things that lead to anxiety.
Each Hemp Bombs gummy contains 15mg of CBD backed up by a blend of L-theanine, scutellaria, passiflora, and melatonin. Passiflora and scutellaria are both widely studied for their anti-anxiety effects, with the latter thought to calm nerves by stimulating the release of neurotransmitter gamma-aminobutyric acid (GABA).
Hemp Bombs product specifications:
15mg CBD backed up by a proprietary blend of mainly plant extracts.
60 gummies per bottle.
A recommended dose of 1-2 gummies per day.
Designed to support an active lifestyle.
Hemp Bombs CBD gummies are a good bet for reducing stress and anxiety, thanks to the combined impacts of CBD and plant extracts.
Pricing: 
Each bottle of Hemp Bombs costs $99.
Hemp Bombs are available here.
#6 Green Roads Relax Bears
Green roads relax bears from Greed Roads
Green Roads bill their CBD gummy bears as "the best-tasting CBD gummies on the market" which is a bold claim. You'll find 10mg of CBD in each one.
This is a premium brand of gummy, with Green Roads claiming to be the gold-standard for quality in the CBD edible industry. Their products are independent lab-tested, gluten-free, and made from American-farmed hemp.
Green Roads Relax Bears product specifications:
Delicious sweet and sour taste.
10mg of full-spectrum CBD from US-grown hemp.
Each batch is traceable to the origin.
Consistent doses of CBD.
Green Roads give an air of quality and professionalism, and their CBD gummies are well-suited to people looking to reduce stress and anxiety in their lives.
Pricing: 
These gummies cost $43.99, and you'll find 30 in each bottle.
Green Roads Relax Bears are available here.
#7 Bionnico Mandarin Hemp Gummies
mandarin hemp bummies from Bionnico
Bionnico makes CBD products formulated for natural relief. They use quality ingredients alongside US-grown hemp to create gummies with great taste.
Their mandarin flavoured hemp gummies contain 25mg of CBD each: More than any other gummy in this list. With 60 gummies per bottle, that's a whopping 1500mg of CBD in total.
Bionnico Mandarin Hemp Gummies product specifications:
Generous amounts of CBD per bottle.
Gluten-free and vegetarian-friendly, thanks to no gelatin.
Formulated to relieve anxiety and stress.
While the information on their website is relatively minimal compared to other brands, Bionnico demonstrate a good understanding of what people look for when choosing a CBD gummy. This product combines good strength, good price, and good flavour.
Pricing: 
Each bottle of Bionnico Mandarin Hemp Gummies costs $33.
Bionnico Mandarin Hemp Gummies are available here.
#8 R+R Medicinals Hemp Extract Gummy Rings
R+R hemp extract from R+R
This rustic-styled jar of gummies from R+R Medicinals contains 30 gummy rings, each with 25mg of CBD. They're designed to managed anxiety and stress relief.
Whereas some other companies in this list separate their products out by effect – pain management, help with sleep, stress-relief, etc – R+R Medicinals tout their gummy rings as a way to achieve all three things at once. 
CBD hemp extract is the only active ingredient, so there's no support for the effects of CBD.
R+R Medicinals Hemp Extract Gummy Rings product specifications:
Made with US-grown hemp.
Naturally flavoured and thoroughly tested.
Generous amounts of CBD per ring.
Manufactured locally to where the hemp is grown, in Colorado.
This product makes broader claims than some others in this list, but contains a generous amount of CBD per serving that should offer relief of stress and anxiety.
Pricing: 
This CBD gummy edible costs $49.99 per bottle.
R+R Medicinals Hemp Extract Gummy Rings are available here.
What is CBD, and what does it do?
If you're not familiar with CBD, let us get you acquainted.
This chemical makes up about 40% of most cannabis strands. It has lower 'psychoactivity' than other compounds found in the plant, meaning it has less impact on your perception, mood, and behavior.
In short – CBD won't get you high. It's primarily the THC in cannabis that does that.
Extracting CBD from cannabis and repurposing it into other products has gained popularity over recent years. CBD-infused oils are used to make drops, vape oils, capsules, gummies, and much more.
CBD is usually extracted through a process called decarboxylation. Plant materials containing CBD are heated in oil for a few hours, which activates the CBD. The activated CBD then binds with the fats in the oil. This oil is infused with CBD and ingesting it will cause you to experience its effect.
You'll see the terms 'isolate' and 'full-spectrum' when buying CBD products…
'Full-spectrum' means that CBD is extracted along with other 'cannabinoids' – compounds found in the cannabis plant. In products with 'isolated' CBD, only the CBD is extracted. 
The chemical is widely studied for its effects on pain, stress, anxiety, epileptic symptoms, and many others. This body of scientific literature is expanding at a steady rate, with the Food and Drug Administration (FDA) approving a CBD-based drug for use with certain epileptic disorders.
It's thought that CBD may play a role in the serotonergic system, which is responsible for producing and controlling levels of serotonin in your body.
Serotonin is a neurotransmitter involved in the regulation of mood It's still early days with CBD, and while the FDA has not approved any claims into its efficacy for treating sleep, pain, anxiety or other issues, the body of research is expanding and early signs look very positive. And as our understanding of CBD improves, the market of products taking advantage of its numerous benefits expands.
Benefits of CBD Edibles
CBD edibles offer a lot of potential benefits. In particular CBD is thought to stimulate the release of neurotransmitters involved in feelings of stress. It's thought to ease pain, and to help you get a better night sleep.
And while CBD is fairly new on the scene, there is already a large – and expanding – body of scientific interest around the chemical. The potential benefits for relieving pain, reducing stress, and helping with sleep problems have massive appeal.
That said, it's important to remember that health regulators have not yet approved CBD for its widespread benefits. So while CBD might be a good choice for many people, it's worth speaking with a doctor if you're unsure about the potential impact on your health.
Also bear in mind that CBD gummies are designed to help relieve the symptoms of stress and anxiety, but they may not target the root cause.
If you're feeling more stressed and anxious than usual, or for longer than usual, we recommend speaking with a doctor or medical professional. They'll be able to advise you on longer-term solutions.
CBD gummies – or any CBD product – are designed to complement a lifestyle that encourages better sleep and better peace of mind. As we said earlier, they are not intended to be used as a magic bullet to solve underlying problems leading to sleep disturbances, anxiety, or pain.
Is CBD legal?
Yes, CBD is legal in all 50 US states, thanks to the Farm Act of 2018. Products with less than 0.3% THC are legal to buy at a federal level.
CBD for commercial use is often extracted from the hemp plant rather than marijuana. These two plants are from the same species, but hemp has less than 0.3% THC. 
Does CBD make you high?
Many people think that because CBD is found in the marijuana plant, that it is illegal. However when the chemical is extracted and isolated, and used in products that contain no THC, it does not cause the same high as smoking or ingesting marijuana. This is true when CBD is extracted from hemp.
CBD is linked to feelings of calmness and mental clarity. It does not have the psychoactive properties of THC, so you will not feel the traditional high associated with cannabis.
Choosing the right CBD gummy for you
You may be wondering why we're focussing on gummies.
Well, if you're feeling stressed and anxious, it's nice to have something comforting. Eating a sweet gummy might be a more agreeable prospect than using a dropper to put a couple of drops on your tongue, or washing down a capsule with a big glass of water.
They are also an extremely convenient option if you are looking for a quick and simple way to enjoy your CBD whilst on the go.
Just pop it in and chew, savour the sweetness, and experience the benefits. 
As you can see, there are a lot of products to choose from. The list above is just the tip of the iceberg in terms of CBD edibles available online.
When you're looking for a gummy, we recommend choosing something that doesn't contain too much CBD per serving. This way you won't inadvertently have too much, and you can eat another one if you'd like a more potent effect.
CBD levels of around 20mg per serving, similar to the levels in our top pick, is a good starting point.